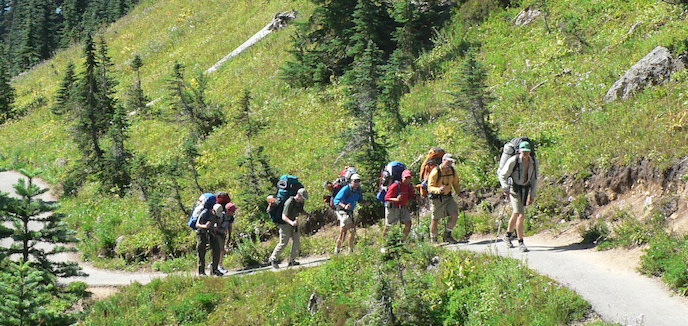 Mount Rainier National Park News Release
Release Date: May 26, 2016
Contact: Tracy Swartout, (360) 569-6502
Mount Rainier Superintendent Randy King advises that the park is making good progress on its annual spring opening process, and is pleased to announce many popular roads will open
tomorrow
, just in time for the Memorial Day weekend.
Roads and facility updates:
Work will continue in 2016 on a multi-year road and utility construction project between Longmire and Paradise. This project involves rehabilitation of the driving surface for improved visitor safety and driving experience. Visitors should expect delays of up to 30 minutes Mondays through Fridays from Longmire to Paradise. No planned road work will occur on holidays/weekends, but unexpected situations may arise. Ricksecker Point Loop will be open to public access through Memorial Day weekend, after which it will close for the season to provide for road construction materials staging.
The following areas and facilities will open for the season on

Friday, May 27

:
·
Longmire Wilderness Information Center
·
White River Wilderness Information Center
·
Box Canyon Picnic Area & Restrooms
Trail updates:
S
now has begun melting out along lower elevation trails, but still covers trails at higher elevations. As a result of winter storms, crews are finding that an exceptional number of trail bridges and footlogs have been washed away. Additionally, storms have blown down a high number of trees over trails park-wide, with many root ends blocking entire trail widths. In some cases, the trail tread has been extensively damaged and safe passage is difficult or impossible. In addition, many foot logs have washed out making river crossings challenging or impossible. Conditions will improve as crews work to restore trails and bridges, but it will require considerable time due to the extent of winter's damage. Visitors are cautioned to use good judgement in determining whether their planned route is safe under existing conditions. Rocks, dirt and debris may move as you work your way around them. Always be prepared to turn back. Of note:
Due to winter damage the Grove of the Patriarchs Trail footbridge is unsafe for passage.
Repairs will be completed in the next few weeks.
Fee updates:
The phased increase of entrance fees in 2015 and 2016 was approved during 2015 based on public input and general support for the increases. Beginning
Friday May 27
, the park's single entrance fee will rise from $20 to $25. This fee provides entry for all occupants in a single vehicle for seven consecutive days. Other park fees are noted in the table below. Walk-up, and motorcycle entrance fees will not change from 2015. Camping fees also remain unchanged ($20/night for single sites, and $60/night for group sites). Recreation fee revenue is an important component of Mount Rainier National Park funding; entrance fees support over $3 million in projects each year that have a direct benefit to the visitor experience. Planned projects include rehabilitation of infrastructure such as restrooms, trails, campsites, and accessibility.
| | | |
| --- | --- | --- |
| FEE TYPE | Description | Fee, effective May 27, 2016 |
| Mount Rainier Single Entrance | Grants unlimited entry for one non-commercial vehicle and all passengers for seven consecutive days. | $25 |
| Mount Rainier Annual Pass | Grants unlimited entry for one year to pass owner and passengers in the same car. | $50 |
| Walk-up/ bicycle | Grants unlimited entry for seven consecutive days for a walk-up visitor or a single bicycle. | $10 |
| Motorcycle fee | Grants unlimited entry for seven consecutive days for one motorcycle and passenger. | $20 |
Park information, announcements, and the webcams are posted on
nps.gov/mora
.
About the National Park Service-
More than 20,000 National Park Service employees care for America's 409 national parks and work with communities across the nation to help preserve local history and create close-to-home recreational opportunities.